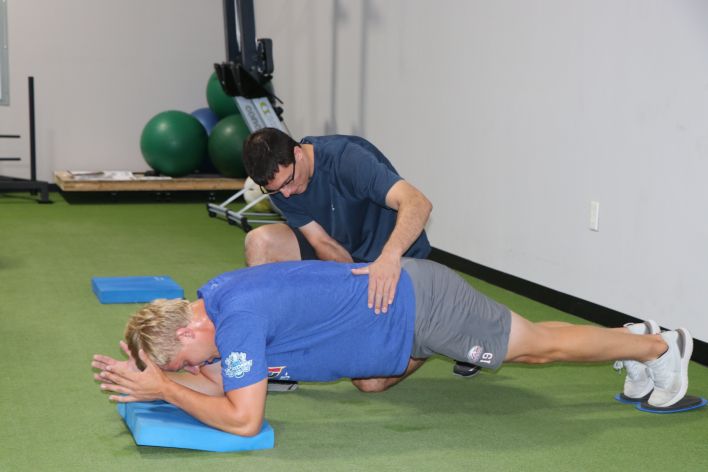 3 Bodyweight Core Exercises
Stuck at home and not able to or comfortable to head out to the gym? Here are 3 Bodyweight Core Exercises that will have you burning and targeting the abdomen.
I'd recommend starting out doing :20-:30 seconds for each exercise for a total of 2-3 sets.
If you're more advanced you can bump the timing up and add additional sets as needed.
Here are 3 core exercises down below!
Shoulder Taps
Mountain Climbers
Bear Crawls
The key to these exercises is to keep your core engaged tight and avoid twisting and turning during the movements. We want to say in control of each move and even engage our entire body such as we do in the Bear Crawl.
Use these exercises when you need to and of course let me know what you think of them!
To your success,
Jerry Vangilder
P.S. Whenever you're ready… here are 3 ways I can help you:
1) Join us In-Person
We have officially started at Puckmasters Hockey Training in Wixom, MI. We now offer personal training, semi-private training, youth classes, team training and remote coaching programs.
Contact us today to schedule an assessment where we dive into your goals, aspirations, assess your movement patterns and find the right program for you!
2) Try our 4-Week Dumbbell Only Program
Many people are training from home right now with minimal equipment so I've put together a 4-week program that requires a single or multiple dumbbells that can be done from home.
Go to the Services page and find the 4-Week Dumbbell Only Program!
3) Athlete? Do Our 12-Week Strength Program
Get a head start on the competition with our comprehensive strength program that will enhance your son or daughter's strength and power. This program is proven to work and is the same format we use in-person with our athletes.
Go to the Services page and find the Athlete 12-Week Strength Program!