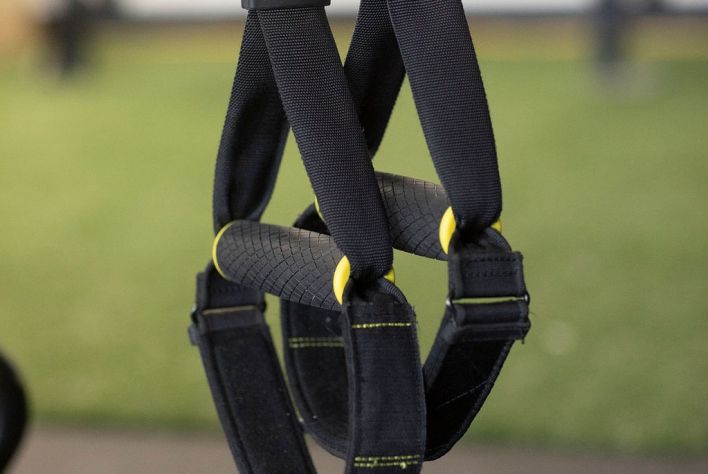 5 Upper Body TRX Exercises
Suspension Trainers such as the TRX and Jungle Gym are great tools to have available either at your gym or even at home!
They are easy to transport and set up. The versatility that these tools provide is tremendous. There is a wide variety of exercises that can be done with these and provide an excellent choice for developing your home gym during these times.
This article is an overview of some of the common upper body exercises we use in-person and in our online training programs. No matter how much you perform these they can still provide a great challenge!
Below are 5 Upper Body TRX Exercises:
1) TRX Bicep Curl
2) TRX Row
3) TRX Face Pull
4) TRX Y
5) TRX Single Arm Kettlebell Row
How to implement: (this is not intended as a prescription, use at your own risk)
Typically we sprinkle these exercises throughout the workout, but we can also use these as a circuit or even workout finishers.
Depending on the individuals fitness level and experience, rep ranges can go from 10-20+, even timed circuits.
If you're just starting out it is recommended you do 8-10 reps. Make sure you stay in control of the exercise and have a solid base with your foot placement to avoid slipping.
If you're advanced, give a shot at some higher reps or timed sets. Again, make sure you stay in control of the exercise and have a solid base with your foot placement to avoid slipping.
Try these exercises out in your next workout and I'd love to hear or see how they go!
To your success,
Jerry Vangilder
P.S. Whenever you're ready… here are 3 ways I can help you:
1) Youth Athlete? Join Our Sports Performance Program
Get a head start on the competition with our comprehensive strength and conditioning program that will enhance your son or daughter's acceleration, speed, power, strength and overall conditioning.
Email me with "Youth Athlete" in the subject line and I will get back to you as soon as possible.
2) Try a 7-Day Free Trial of Train With Jerry on Train Heroic
Try our online Train With Jerry program for free for 7 Days. This program provides you 4 workouts per week and the program changes monthly. I've taken all the guesswork out of programming and providing you the same results-oriented program you would find training in-person with me.
It's a monthly program and you can get started for FREE with a 7-Day Trial.
Go to the Online Training page and find Train With Jerry!


3) Be a guest of mine for a One-on-One Assessment
Let's sit down together and discuss your goals, training history, identify any movement deficiencies that may be holding you back and more to put you on the right path to help you achieve your goals.
Email me with "Assessment" in the subject line and let's schedule a time.