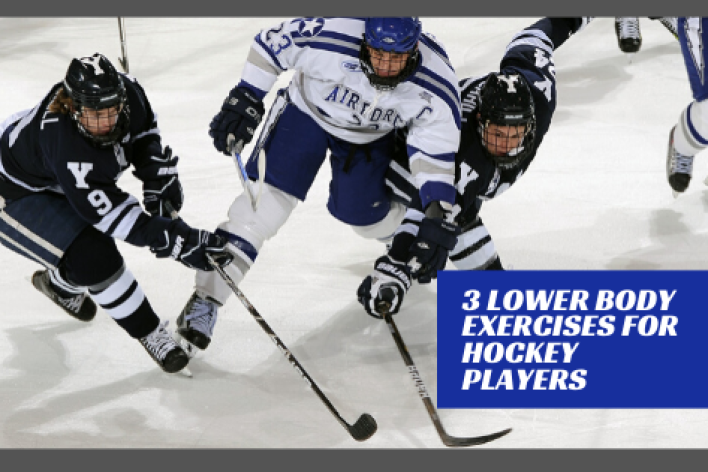 Top 3 Lower Body Exercises for Hockey Players - Northville, Michigan
It's that time of year again as the hockey season underway. As you or your team takes on the competition and practice several times a week, lets not forget to take of the legs in the weight room.
But coach, "I am skating 5 times a week, I don't need to train my legs". Well, that is one approach you can take or you can continue to train on your off days or light practice days to continue feeding the strength bucket. Keep in mind continuing to train can help get yourself out of some compromised positions that can increase and or lead you down the injury road.
Think about getting a brand new car fresh off the lot. You worked hard to get that car and everything is running and working properly. But as time goes on the miles add up and if you don't take care of the engine, oil, etc, eventually your car will run into problems or break down.
Same can be said for strength training during the season. We should want to maintain strength, power, tissue quality and overall movement quality through just enough dose to keep us fresh. Don't neglect training as this will cause your body to wear down and run into movement and injury problems.
Here are our Top 3 lower body exercises for hockey players and a sample of sets and reps we typically use during the season.
1) Split Squats
Split Squats are great for maintaining and developing single leg strength. It also engages some of the smaller muscles that will help provide stability as well. You can use a variety of implement positions if you want to continue to challenge and progress the movement. Example, you could hold a single dumbbell (suitcase) or two dumbbells (farmer) to challenge your core by resisting flexing over to one side or remaining stable in split stance.
Set and rep range: 3x8
2) DB Single Leg Deadlift (SLDL)
The SLDL is a great posterior chain exercise for developing hamstring and glute strength, while maintaining quality movement throughout the hip. This exercise challenges the body in single leg stance to maintain balance, coordination and efficient movement by engaging small stabilizing muscles throughout the stance leg.
You can change the position and implement to make the exercise tougher or easier. We will typically use a dumbbell or even two dumbbells for this exercise. Other variations include using a barbell, band or kettlebell.
Set and rep range: 3x8
3) Trap Bar Deadlift
The Trap Bar Deadlift is a great overall strength exercise when performed correctly. We typically use the trap bar as it allows our athletes and members to be in a better starting position by placing the hands to the side as opposed to in front of their body.
This allows the stress to be taken off the lower back and allows us to engage our hamstrings and glutes.
We want to keep the shoulders back, knees bent and fire from our posterior chain while performing the exercise. It is key that we move in one piece as opposed the hips lifting upwards first or rounding our back to lift the weight.
Overall, this is a great exercise to select to maintain and build strength throughout the season and another variation to work on our posterior chain.
Set and rep range: 3-4x5
So, the next time you decide to wander around the unsure of what to do, give these exercises a shot and see what you think.
If you would like to learn more about our training programs and looking for solutions, check out our website at coachjerryv.com and shoot us an email to see how we can help you out!